This is Susan's latest newsletter. Subscribe to receive it directly in your email box once a month.
Yes, I'm Still Alive & Exciting May News!!!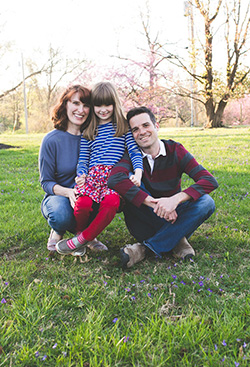 Hey, y'all!  Yes, I'm here, though I know I've been quiet on the book front. I'm wrapping up lots of volunteer commitments at Emily's school and counting down to summer. Less than two weeks of first grade remain, if you can believe that!  Soon, I'll be the mom of an incoming second-grader. I can still vividly recall pushing for two hours to ensure Emily's debut and holding her while Ed cut the cord. Now, I'm afraid to blink. As the next time I do, she'll be in college. Ack!
Confession: I have greatly enjoyed my time away from book contracts to do the mom thing full-time. But that doesn't mean I've been idle. For the last month or so, there's been an exciting development in the works that I am now free to share!  My short memoir, In the Pink: How I Met the Perfect (Younger) Man, Survived Breast Cancer, and Found True Happiness after 40, has been optioned by the incredibly talented Kincaid Walker and Jason Eksuzian!  Both Kincaid and Jason are award-winning, multi-talented movers and shakers in LA: Kincaid is an actress, writer, and producer, and Jason is a cinematographer, writer, and director/producer.
Kincaid and Jason co-created "Hug It Out," in which Kincaid stars and Jason directs, which Bustle.com recently named "Best Digital Series," awarding Kincaid the honor of "Best Emerging Female Creator." She has a recurring role on "Speechless" (ABC) and has appeared in numerous other TV shows and films. Jason is Director of Photography for "Vanderpump Rules" and the new re-boot of "The Hill," among numerous other projects.
Needless to say, I am beyond excited to see what will happen with In the Pink, and I feel really good that it's in the extremely capable hands of Kincaid and Jason. I'm pleased as well that they want me involved. So, is it cliché to say I'm tickled pink? Because I am!
More fun news to share: I did an interview with Gazelle Magazine back in February, and it's out in the May issue! I talked my head off for over an hour, so it's always interesting to see my babble condensed into quick bites. Here's a link so you can see it online, although it's much cooler to see the actual magazine with the two-page spread. If anyone wants a copy, I'll send you one. Between my mom and me, we have plenty. 😊
So, as the school-year ends, and Emily starts half-day summer camp, I will be working on the new book. I promised my agent I'd have a draft done by the time Emily begins second grade in August, and I must keep my word! I'll also do my best to get the Sweatpants Book Club in motion. I apologize wholeheartedly for dragging my feet on that. But it's coming! Keep an eye on https://facebook.com/susanmcbridebooks.
I think that's it for the moment. Happy May, Happy Almost-Summer, and Happy Reading!