This is Susan's latest newsletter. Subscribe to receive it directly in your email box once a month.
Hey, it's February, the month of love…and not just because of Valentine's Day. My 9th wedding anniversary is also this month! So even if it's cold out, my heart is warm!
Let's kick things off with something else I love: a good deal! Now through February 20, HarperCollins has a special price promotion going for Say Yes to the Death, my sixth Debutante Dropout Mystery featuring society rebel Andy Kendricks and her Chanel-wearing mum Cissy. It's only 99-cents, my friends, and you can buy it from any of your favorite online booksellers, including Amazon, bn.com, iTunes, and Kobo.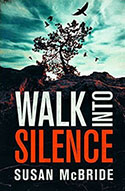 There are deals going for readers in the UK and Germany, thanks to Amazon Publishing! Folks there can get the Kindle version of Walk Into Silence, my first Jo Larsen mystery, at discounted pricing from now through the end of February. If you're intrigued, here are the links: Amazon UK and Amazon Germany.
If you haven't read Walk Into Silence yet and want to check it out, click here! It's available in e-book, trade paperback and in several audio-book formats, which you can order here from various booksellers. So far, Walk has garnered almost 1,900 reviews on Amazon and over 5,500 on GoodReads. If you've read it, loved it, and haven't reviewed it, I'd appreciate your review, too! Every good word counts! Thanks in advance if you do (or have already done just that!).
I'm nearly finished with Come Helen High Water, the fourth River Road Mystery for HarperCollins' Witness Impulse imprint, and I just saw the cover art. It's awesome! I hope to share with you in the next newsletter. I've also just learned that Helen #4 will be coming out in audio book format, like its predecessors. Release date for the e-book is June 27 with the mass market paperback and audio to follow in August. Yay!
Still on my plate: the second Jo Larsen Book for Thomas & Mercer called Walk A Crooked Line, which is available for pre-order already. It's due in July! We'll see how fast I can write!
I'll draw the winner of my January contest soon! You can check my Facebook page for an announcement (and the winner will be notified by email). Thanks to all who entered. Stay tuned for another contest in March.