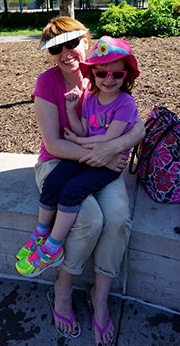 Happy June! Emily's birthday is at the end of the month. I can hardly believe she'll be four! So I'm gearing up for her party (and praying for good weather!). I'm also busy helping to plan a third Wine, Wit & Lit: Cocktails and Conversation with Area Authors. We've got seven stellar wordsmiths who'll be there, participating in a "speed-dating with authors" session: Fedora Amis, Lynn Cahoon, Jody Feldman, Angie Fox, Megan Kelly, Denise Swanson, and moi! Plus, there'll be food, wine, a silent auction, and lots of baskets for raffle! Proceeds will benefit Reeling & Healing Midwest, a nonprofit organization that takes cancer survivors fly-fishing! If you're in the St. Louis area, I hope you'll join us on Sunday, August 14 from 1:30 to 3:30 for Wine, Wit & Lit. A good time is guaranteed! For more info, see my Events page. To purchase tickets in advance, click here.
I'm also getting super-psyched about my mystery/thriller, Walk Into Silence, coming out September 6 from Amazon's Thomas & Mercer imprint in trade paperback, e-book, and audio. I've got the full cover to share (yes, front and back!). If you click on the trade paperback link, you'll get a sneak peek of the first chapter! If you're a book reviewer and would like a digital ARC, you can get one from NetGalley. If you have a problem, let me know, and I'll put you in touch with my publicist at T&M.
(Click on the cover to enlarge it!)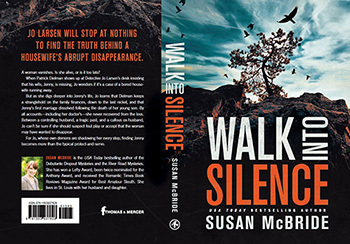 You can pre-order Walk Into Silence on my Books page (and order any other books as well!).
For up-to-date news on releases and contests, please like Susan McBride Books and/or friend me on my personal page at Facebook (where I post pics of Miss Emily!).
Happy June! And eat a piece of cake, please, to celebrate Emily's fourth birthday! :-D