November is here, and it finally feels like fall for real. It's about time, too, with the holidays right around the corner. As my dining room table went out the door this week (it's being refinished!), we're having Thanksgiving at my mom's house. If I'm lucky, I'll have the table back in time for Christmas dinner at our place!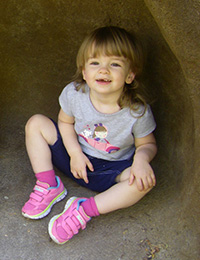 Though I'll likely be working on a revision of Say Yes to the Death before 2014 ends, life should be pretty calm around here, or as calm as it gets with a toddler in the house. I am SO looking forward to experiencing Christmas with Emily this year. She's so much more aware of what each holiday means, and she's talking up a storm, saying sentences that have Ed and me staring at her, wide-eyed. Yep, she's the daughter of a writer, that's for sure (and having an engineer for a dad doesn't hurt either!).
Contest News! The three winners of signed hardcover copies of Very Bad Things are James of Virginia, Nancy of Illinois, and Karen of California. Congrats to the winners and thanks to all who entered! I love reading the notes with your entries. It's amazing to realize how many of y'all have been with me since the very beginning, and I really appreciate the friendships that have sprung out of this book thing. In fact, because I think you guys are so awesome, I'm going to randomly go through entries from contests past and pick winners to receive any book I've written (winner's choice!). I'll do that starting next week, every week, through December. So stay on your toes! If you've entered in the past but didn't win…you still could!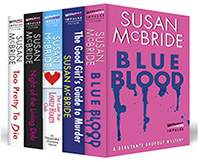 The Susan McBride Collection! Yes, it's true. HarperCollins is putting out an e-book collection of the first five Debutante Dropout Mysteries. It goes on sale December 2, 2014. For $4.99, you can give yourself or a friend Blue Blood, The Good Girl's Guide to Murder, The Lone Star Lonely Hearts Club, Night of the Living Deb, and Too Pretty to Die. The perfect holiday gift! Check out my Books page for links to order.
As for Say Yes to the Death (Debutante Dropout Mystery #6), the pub date will be September 29, 2015. So you've got plenty of time to gear up for more Andy and Cissy insanity!!!
Find me on Facebook at Susan McBride Books for book-related updates. Or if you'd prefer more everyday chatter and lots of pics of Emily, friend me at Facebook instead. Either way, stay warm and Happy Reading!