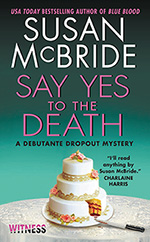 Starting off August with some very good news! HarperCollins is producing audio versions of all the Debutante Dropout Mysteries AND all the River Road Mysteries! The first out will be Say Yes to the Death on September 29 to coincide with the paperback and digital release of the sixth installment in the Deb Dropout series. The other audio books will be released shortly thereafter so that ALL should be available by mid-October. I've been asked many times through the years why the titles weren't available in audio… and very soon they will be! So grateful that my publisher made the decision to do this (and they let me listen to narrators and weigh in on that, too, which was amazing!).
Still counting down to the September 29 return of Andy and Cissy in Say Yes to the Death, in which a sweet grandmotherly cake baker is accused of murdering a nasty wedding planner, who just happens to be Andy's prep school nemesis. If you're a reviewer and would like a digital ARC to read now, head over to Edelweiss and request one or email camille.collins@harpercollins.com to get hooked up. If you'd rather have a print copy of the bound galleys, please, forward that request to Camille as well. I've got a GoodReads giveaway up and running. So head on over to enter to win one of 10 signed paperback copies of Say Yes. More contests to come, so stay tuned!!!
Enter Giveaway
Though mostly I'm playing with Emily these days—three is such a fun age!—I'm trying hard to work on the fourth River Road Mystery entitled Come Helen High Water, in which my puzzle-loving senior sleuth, Helen Evans, snoops around after a body is found following a flood. If you haven't read the River Road Mysteries yet, bop on over to my Books page for links! If you're a fan of the Debs YA series, I still plan to get Gloves Off published myself after getting the rights back from Random House, but I just haven't had the time this year. That pub date has been pushed back to March 2016.
For news on releases and contests, please like Susan McBride Books and/or friend me on my personal page at Facebook (where you'll find lots of pics of Miss Emily!). Happy August and Happy Reading!