I have so much to tell you and so little time (er, space!). If you haven't tried the first of my new River Road Mysteries, To Helen Back, you can buy the e-book for 99 cents EVERYWHERE during a summer promotion by HarperCollins going on right now. Here are links to a variety of booksellers to make buying easy.
If you're not a fan of e-books, the paperback edition of To Helen Back is just out, and it's only $4.99 or less, depending on where you buy it. To celebrate, I'd like to give away five signed paperback copies of To Helen Back. Just email McBrideMysteries@aol.com and say, "Enter me!" Simple, eh? I'll randomly draw five winners after midnight on July 29, 2014, which is the day that Mad as Helen, the second River Road Mystery, comes out! Mad will be e-book first, too, with a paperback edition to follow.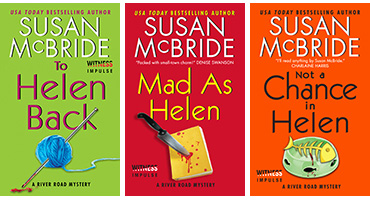 If you've already read To Helen Back and enjoyed it, I would greatly appreciate if you'd review it online (say, at Amazon, BN.com, GoodReads, or LibraryThing). Once you do, email me at sueauthor@aol.com with a link to the review. I'll enter you to win a $50 Visa gift card that you can spend on ANYTHING you want. (Um, like books!) That random drawing of all entries will also be conducted after midnight on July 29. So thanks in advance should you review Helen... and good luck!
For more info on To Helen Back, you can watch a clip of me talking about the new series on "Great Day St. Louis" here.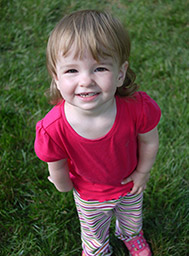 Other happy July news: Emily is now two years old! We celebrated her birthday at the end of June. I can't believe how fast she's growing! Everyone warned me, but I didn't realize the days would pass in the blink of an eye. I'm trying hard to balance writing the sixth Debutante Dropout Mystery, Say Yes to the Death, and spending time with Emily. It's a tricky juggling act as I want to be with Emily as much as I can. But Say Yes is coming along and I'm loving it so far! I'll let you know more about the release date from HC/Avon once I turn it in.
Find me on Facebook at Susan McBride Books for book-related updates. Or if you'd prefer more everyday chatter and lots of pics of Emily, friend me at Facebook instead. Either way, Happy July and Happy Reading!