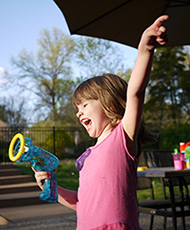 It must be May as the weather is gorgeous! It's been great getting outside with Emily, playing on the swing set and making bubbles with the bubble gun! It already feels like summer is near. How time flies! Each day seems to pass in the blink of an eye.
That's the main reason my fourth Helen Evans mystery, Come Helen High Water, has been postponed, likely due out in 2017. It's hard for me to keep up with a three-year-old these days much less with deadlines. Rest assured, I am still working on Helen #4, just cutting myself some slack (and ever-grateful that I have a lovely editor at HarperCollins who affords me that slack!). Sorry for the delay!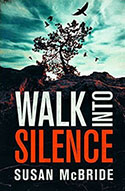 I still have my mystery/thriller, Walk Into Silence, coming out September 6 from Thomas & Mercer in trade paperback, e-book, and audio. I've been through the copy edits and the proofread pages, and I have a cover to show you! Isn't it gorgeous? Here's the back cover copy:
JO LARSEN WILL STOP AT NOTHING TO FIND THE TRUTH BEHIND A HOUSEWIFE'S ABRUPT DISAPPEARANCE.

A woman vanishes. Is she alive, or is it too late?

When Patrick Dielman shows up at Detective Jo Larsen's desk insisting that his wife, Jenny, is missing, Jo wonders if it's a case of a bored housewife running away.

But as she digs deeper into Jenny's life, Jo learns that Dielman keeps a stranglehold on the family finances, down to the last nickel, and that Jenny's first marriage dissolved following the death of her young son. By all accounts—including her doctor's—she never recovered from the loss.

Between a controlling husband, a tragic past, and a callous ex-husband, Jo can't be sure if she should suspect foul play or accept that the woman may have wanted to disappear.

For Jo, whose own demons are shadowing her every step, finding Jenny becomes more than the typical protect-and-serve.
I can't wait for you to read it!
I'm also still helping put together another Wine, Wit & Lit event to raise money for Reeling and Healing, a nonprofit that takes cancer survivors fly-fishing! If you're in the St. Louis area, mark your calendars for Sunday, August 14 from 1:30 to 3:30 at Patrick's in Westport. So far, I've roped in half a dozen of my wonderful, bestselling, award-winning author-friends, including Fedora Amis, Lynn Cahoon, Jody Feldman, Angie Fox, Megan Kelly, and Denise Swanson. There will be food, drink, cool items for auction, and a "speed-dating with authors" session! Stay-tuned for a link to pre-order tickets!
For up-to-date news on releases and contests, please like Susan McBride Books and/or friend me on my personal page at Facebook (where I post pics of Miss Emily!).
Happy May!