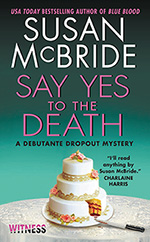 I'm late, I'm late, for a very important date! Well, at least I'm late with the news for November. But I have a good reason: I've been waiting for the all-clear to announce my latest book deal. Here's the scoop from Publishers Marketplace:
Fiction: Mystery/Crime
USA Today bestselling author Susan McBride's WALK INTO SILENCE, following a detective in her attempts to find a missing wife, a woman dangerously anchored to the past, all the while coping with her own skeletons and resisting the easy assumption that it's always the husband, to Kjersti Egerdahl at Amazon Publishing, by Christina Hogrebe at Jane Rotrosen Agency (World).
I'm very excited about Walk Into Silence, which features a Texas detective named Jo Larsen and her efforts to track down a missing woman whose past is as murky as Jo's. Word is that Walk will be out in September of 2016, and I'll keep you apprised of the pub date. Yeeha!
In the meantime, I have a fourth Helen book to write, and I'm focusing solely on that at the moment. It's called Come Helen High Water, and it will be out in June of 2016 from HarperCollins. It'll be digital-first like the three previous River Road Mysteries, so the paperback will follow a few months after.
On the contest front: the winner of a complete set of my mass market paperback mysteries is Julia from Minnesota! (Julia, your books are being readied for the post office as I type!) Hooray to Julia and to all of you wonderful peeps who entered to win. I will have more contests for newsletter subscribers only in the future. So if you haven't signed up, you should! I'll only bug you once a month with book news, contests, and maybe a photo of Emily!
For those who haven't had a chance to get a copy of Say Yes to the Death, the sixth Debutante Dropout Mystery featuring crazy mother-daughter sleuthing duo of Cissy and Andy Kendricks, you can find links to order the paperback, e-book, or audiobook on my Books page or order directly from HarperCollins.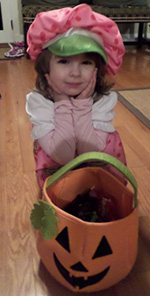 As for Miss Emily, she's getting so tall it's scary! Between her height and her vocabulary (and the fact that she loves chapter books already), I sometimes forget she's three. She still loves dance classes and lots of playtime, and I'm enjoying it all, too! Here's a pic from Halloween. She was Strawberry Shortcake!
For up-to-date news on releases and contests, please like Susan McBride Books and/or friend me on my personal page at Facebook (where you'll find lots of pics of Miss Emily!). Wishing you a wonderful November and a very Happy Thanksgiving!