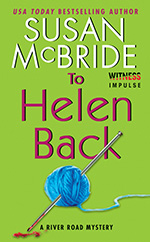 Hooray, hooray! I revised all three "Helen" mysteries in March (and proofed the copy edit for To Helen Back) so things are really rolling along with that new River Road Mystery series. To Helen Back debuts on May 27, 2014, from the Witness imprint of HarperCollins/ Avon in digital-first followed by a paperback edition. Mad as Helen will be out in late July and Not a Chance in Helen will be available in late September. New York Times bestseller Denise Swanson says To Helen Back "is packed with small-town charm. The clever senior sleuth is a cross between Miss Marple and your favorite grandma, and the intriguing plot will keep readers turning the pages until the surprising conclusion." (Thanks, Denise!) To pre-order To Helen Back, visit my Books page.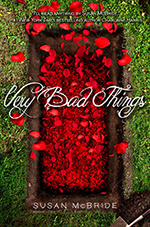 I think 2014 is The Year of the Mystery in my house. Not only do I have the three Helen books coming out with HarperCollins, but Very Bad Things, my YA mystery debut with Delacorte, will hit stores on October 14, 2014. It's my very first hardcover original so I'm psyched! In fact, I'm so excited that I'd like to give away an ARC to one reader. If you're interested, email me at McBrideMysteries@aol.com and say, "Enter me!" Contest runs through April 30, 2014, and I will randomly draw one winner. Good luck!
Now I've got to get crackin' on the sixth Debutante Dropout Mystery, which is titled, Say Yes to the Death. When we last left Andy and Cissy, they were both newly engaged. Let's just say, there'll be wedding plans gone awry and a most inconvenient murder. I'm told Say Yes will be out in early 2015, so stay tuned for more information!
To see what I'm up to on a day-to-day (or at least week-to-week) basis, find me on Facebook at Susan McBride Books for book-related stuff. Or if you'd prefer more everyday chatter and lots of pics of Emily, friend me at Facebook instead. Either way, I'll see you soon!