So long, March... hello, April! (Gosh, April came awfully fast, didn't it?)
In addition to toiling away on a second revision of my young adult mystery and watching Emily crawl all over the place, I'll be getting out of the house to do one event this month. Yes, The Truth About Love & Lightning fundraiser for the St. Louis affiliate of Susan G. Komen for the Cure is actually happening on April 11 at Saks Fifth Avenue in Plaza Frontenac! Hopefully, there won't be horrible weather or a visiting Saks CEO that day so it won't have to be rescheduled again! Whew! I'm super excited about it, and I hope to see you at Saks! There'll be wine from St. James Winery and appetizers from P.F. Chang's. For more info and/or to buy a ticket (a $10 donation to Komen), click here.
The Truth About Love & Lightning is still out there! So if you haven't read it yet, I hope you will. Some Target stores have sold out of their copies but the book will be making an appearance at another large retailer in May. So keep your eyes peeled! (Just in time for summer, I know! I'll holler where when it's actually available.) You can always order online as well. Click here for links to booksellers.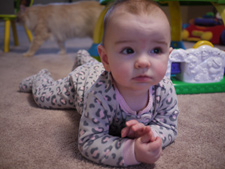 As far as non-book scoop, we're pretty well settled in our new house, and our old house is under contract (hooray!). So we need to get the rest of our things out of there before May 1 rolls around. Gulp. Nothing like a little pressure to keep a person on her toes, eh? Emily's already nine months old so she's been outside of my belly as long as she was inside it! I can hardly believe she'll be a year old in June. She is such a funny kid. She's my heart and soul, that's for sure!
I'm not blogging regularly any more but I do visit my Facebook pages almost daily. So you can either "like" me at Susan McBride Books or friend me at Facebook. See you around!