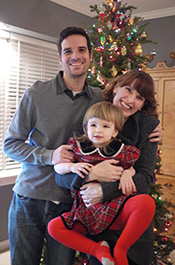 The holidays are over (phew!). The Christmas tree is out by the curb and pine needles swept. Emily is busy enjoying her new toys and books, and she's proudly showing off her spelling skills (in addition to her name, she can spell things like Mom, Dad, pig, cow, dog, cat, and zoo, which makes her writer-mama awfully proud, too!). I am enjoying my new-found freedom from deadlines. I had so many last year that it wore me out. So I'm looking ahead to a year filled with Emily and catching up on things that fell by the wayside in 2014.
For one, I'll be working with the multi-talented Sue Trowbridge, getting Gloves Off available to readers of my Debs young adult series. It's the third book following The Debs and Love, Lies & Texas Dips. I was able to get the rights back from the publisher last year, and I'm excited that I'll finally be able to release it on my own (well, with Sue's help!). So stay tuned for news of a release date!
Speaking of release dates, my sixth Debutante Dropout Mystery, Say Yes to the Death, will be released by HarperCollins in September of 2015. I had such a blast writing another tall tale featuring Andy and Cissy Kendricks after such a long time away from them both. Andy is as saucy as ever, and Cissy is one crazy blue-blooded mom! I'll have more on Say Yes soon, including a peek at the cover art (which I'm hoping to see sometime this month). If you haven't read the other books in my Debutante Dropout series, now's the time to catch up! HarperCollins' has a full set of the first five books (Blue Blood, The Good Girl's Guide to Murder, The Lone Star Lonely Hearts Club, Night of the Living Deb, and Too Pretty to Die) in a digital boxed set for under $5. And right now—as I type this but who knows for how long—Blue Blood is available for 99-cents from Amazon and BN. So you won't break the bank if you want to check out the series before Say Yes is out in the fall. Go to my Books page for links to all.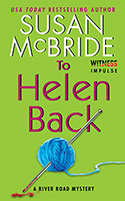 Also on the cheapo books front... the first of my River Road Mystery series, To Helen Back, is FREE for a limited time from all online booksellers, courtesy of HarperCollins. Though, again, I don't know how long that promo will last as it's been ongoing through the holidays. So get your copy ASAP and visit with Helen Evans in tiny River Bend, Illinois, a place that's not unlike Cabot Cove, Maine, where bodies keep turning up (and you wonder why anyone would live there!). Again, find links to booksellers on my Books page.
For more up-to-the-minute scoop, you can like Susan McBride Books and/or friend me on my personal page at Facebook (where you'll find lots of pics of Miss Emily!).
Happy New Year and Happy Reading!