December is here, and my thoughts have turned to Christmas and beyond. We'll be putting up our tree soon, I've got cards to send, and I've been wrapping gifts like a fiend. I feel like this has been a year filled with gifts, but not the kind I can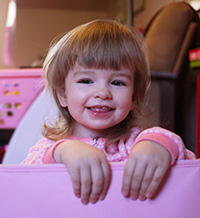 wrap. The most wonderful of all has been watching Emily grow and learn so many things! It makes me ever more grateful that I'm taking time away from deadlines in 2015 so I don't lose any more precious moments with her. I've always loved to write and have said that writing is akin to breathing for me. But now I understand what it means to love something—someone—more than life itself, and writing will have to take a backseat for a little while.
Besides, this year was so busy and full on the book front that I feel like a breather is due. Blue Blood hit the USA Today bestsellers list. Three of my new River Bend Mysteries came out from HarperCollins in rapid succession: To Helen Back, Mad as Helen, and Not a Chance in Helen. My first young adult mystery, Very Bad Things, was published in hardcover by Random House to great critical reviews. And Harper has just released a digital collection of my first five Debutante Dropout Mysteries (out December 2, in fact!). So if you haven't read them all—or haven't read them in a long while—perhaps now is the time to get Blue Blood, The Good Girl's Guide to Murder, The Lone Star Lonely Hearts Club, Night of the Living Deb, and Too Pretty to Die all for $4.99. Then you'll be ready for Say Yes to the Death (Debutante Dropout Mystery #6) which was written this year and will be out in September of 2015.
You see what I mean about 2014 being busy?
So in 2015 I resolve to take a little time for myself, read more, sleep more, and sneak in date nights with my hubby! Most importantly, I want to spend as much time with Emily as possible, enjoying the last full year of freedom before she'll enter pre-school. I intend to finish projects on this house that we moved into almost two years ago, projects I've had to put off and itch to complete. I need to take Emily over to my folks' house more so my father can see and enjoy her before he forgets entirely who we all are (Alzheimer's sucks). And I want to write just for the sake of writing. I still have so many stories to tell, and it'll be fun to see which idea demands to be told next.
Those are my New Year's resolutions. I hope you have some good ones, too! Here's wishing you all a wonderful holiday season and a 2015 filled with the things you love most! I am excited to see what the New Year will bring.
Check out my pages on Facebook, particularly this month as I'm involved in a wonderful giveaway with four other fabulous mystery authors on December 10: Susan McBride Books or my personal page at Facebook.
For links to order any of my books, just head over to my Books page.