Yes, it's nearly Valentine's Day and I'm finally catching up online, though I have some pretty good excuses for not updating since Christmas. As we rung in the New Year, Emily was sick. Her cold turned into an ear infection (her first!) requiring ten days of antibiotics. Poor Em had barely gotten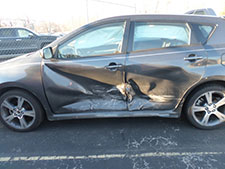 well when my family—en route to Sesame Street Live—was hit by a red light-running driver. The woman took off (yes, it was a hit and run), though Good Samaritans helped us and one chased her down to get plate numbers (though, stunningly, no info about her appears on the incident report—really, city police???). My mom suffered four broken ribs. Emily had a black eye. Ed got five staples in his head. I just had bumps and bruises and nightmares. Two weeks later, Emily is better but still skittish. Ed's head has healed. Mom has another month to go on the ribs. I found a replacement car since mine was totaled (goodbye, beloved Vibe that carried Emily home from the hospital and everywhere for three and a half years!). I am grateful things were not worse and my family survived. Hopefully, the rest of 2016 will be much, much better! I hope your New Year has been without similar bumps!
At least the road to publication for Walk Into Silence seems to be going smoothly (how was that for a segue?). I did get the book revised (again and again until it sparkled!) for Thomas & Mercer, Amazon's mystery imprint, and I look forward to seeing what the wizards there come up with for the cover! Walk Into Silence is set for a September 2016 release (more details soon). If you read my Maggie Ryan books, you'll feel a familiar style and tone. Walkhas a female detective lead and is set in North Texas, and it's darker than my Debutante Dropout books or the Helen series. It's about a wife whose disappearance strikes a lot of chords with Detective Jo Larsen, who finds more mysteries than she bargained for when she begins to investigate the woman's past.
As for those lighter mysteries, I'm still working on the fourth Helen book, Come Helen High Water. Since I'm behind schedule, the pub date has changed to October 2016. So I'll have two fall books this year! I'm an October baby, so I love that!
For now, I'm just trying to get life back to normal. I'm easing Emily back into her regular schedule—and myself back into a writing schedule—and I need to get some tax prep done (fun, fun, fun!). I've been promising a new contest, and I will do one soon, I swear! For now, I'll wish you a Happy February and Happy Valentine's Day (and Happy Anniversary to my hubby on the 28th!). Hug your family tight, okay? I'm going to hug mine right now... well, as soon as they wake up!
For up-to-date news on releases and contests, please like Susan McBride Books and/or friend me on my personal page at Facebook (where I post pics of Miss Emily!).