It's August, which means Mad as Helen, the second River Road Mystery, is out and available in digital format! In Mad as Helen, Helen Evans must piece together the puzzle behind Grace Simpson's murder before Sheriff Biddle arrests her granddaughter. To Helen Back—the first book in the new series—is out both in paperback and e-book. Here are links to a variety of booksellers so you can see what the Helen books are about. I'm just so happy that Helen's finally been sprung on the public after all these years! I originally wrote the books 20 years ago to pay homage to my grandmother, Helen, so it's incredibly cool that now readers can buy them and see a bit of my own grandma's spirit in her amateur sleuth namesake! Go, Helen!
If you entered the drawing to win one of five signed copies of To Helen Back, thank you! I had 100 entries and will draw a winner shortly (via Random.org). So be on the lookout for an email from me. I hope to contact everyone who entered as well as the winners. And I will draw for the winner of the $50 Visa gift card as well, given to a reader who has reviewed To Helen Back online. More soon!!!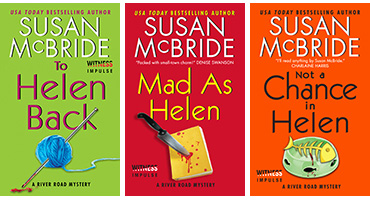 I finally have several events set up for October! I haven't been out and about talking or signing books in quite a while, and I'm still under the gun with the deadline for Say Yes to the Death (Debutante Dropout Mystery #6), so I've avoided speaking engagements until mid-October when my first young adult mystery, Very Bad Things, debuts from Delacorte. I'll be visiting with the Missouri Professional Communicators on October 18 at the St. Louis Artists Guild (not sure if that's open to the public or not—must check) and on October 23 at 7 p.m., I'll be talking mysteries at the Schlafly Branch of the St. Louis Public Library with Left Bank Books handling book sales. That one is definitely open to the public. If you can come see me, I'd love it! So pencil me in on your calendar, please!
Find me on Facebook at Susan McBride Books for book-related updates. Or if you'd prefer more everyday chatter and lots of pics of Emily, friend me at Facebook instead. Either way, Happy August and Happy Reading!