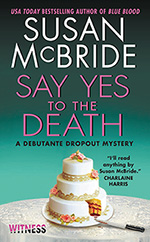 Wow, it's July already, and I'm counting down to the September release of the sixth Debutante Dropout Mystery, Say Yes to the Death, in which a sweet grandmotherly cake baker is accused of murdering a nasty wedding planner, who just happens to be Andy's prep school nemesis. If you're a reviewer and would like a digital ARC to read now, head over to Edelweiss and request one or email camille.collins@harpercollins.com to get hooked up. If you'd rather have a print copy of the bound galleys, please, forward that request to Camille as well. I am so excited about this book! It's been a long time coming, and I'm thrilled that Andy and Cissy are back.
Another book coming out this fall (in October): the trade paperback edition of Very Bad Things, my first hardcover young adult mystery initially out from Random House last October. If you're a fan of mysteries with lots of twists and turns, check it out! VBT earned raves from Publishers Weekly, Booklist, VOYA, School Library Journal, and the Bulletin of the Center for Children's Books. For more info, check my YA Books page here.
I'm currently working on the fourth River Road Mystery entitled Come Helen High Water, which takes readers back to River Bend, Illinois, and has my puzzle-loving senior sleuth, Helen Evans, snooping around after a body is found following a flood. If you haven't read the River Road Mysteries yet, bop on over to my Books page for links!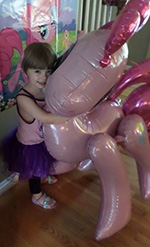 Other big news: my baby turned three! Time does fly when you're the mom of a toddler, doesn't it? Em is a huge book lover, which warms my heart. She's already reading small words and can even write a few. It won't be long until she's putting her own stories down on paper, eh?
For up-to-the-minute chatter, you can like Susan McBride Books and/or friend me on my personal page at Facebook (where you'll find lots of pics of Miss Emily!).