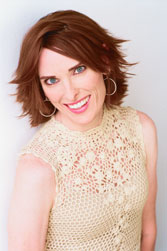 Susan McBride is the author of women's fiction, including The Truth About Love and Lighting, Little Black Dress, and The Cougar Club. Foreign editions of her books have been published in France, Croatia, and Turkey. She has also written a short memoir for HarperCollins called In the Pink: How I Met the Perfect (Younger) Man, Survived Breast Cancer, and Found True Happiness After 40, which was released in October of 2012 to celebrate Breast Cancer Awareness Month. In addition, Susan has a young adult thriller, Very Bad Things, in the pipeline at Random House/Delacorte.
Susan previously wrote the award-winning Debutante Dropout Mysteries (HarperCollins/Avon), including Blue Blood, The Good Girl's Guide To Murder, The Lone Star Lonely Hearts Club, Night Of The Living Deb, and Too Pretty To Die. She has authored several YA series books for Random House about debutantes in Houston, the debut in 2008 appropriately titled The Debs and followed by Love, Lies, And Texas Dips in 2009. Gloves Off, the third book, has not yet been released.
On the personal front, Susan calls herself an "accidental Cougar" after meeting a man nine years younger in 2005 when she was a St. Louis Magazine Top Single. They were married in February 2008 and live happily ever after in a suburb of St. Louis. Susan is a six-year breast cancer survivor and often speaks to women's groups about her experience. In January of 2012, she was named one of St. Louis's "Most Dynamic People of the Year" by the Ladue News. In April of 2012, she was given the "Survivor of the Year" Award by the St. Louis affiliate of Susan G. Komen for the Cure. And in June of 2012, she and her husband welcomed their first baby, Emily! As Susan likes to say, "Life is never boring."
Book Trailer:
Check out the Little Black Dress book trailer!
"Great Day St. Louis" (2/13/13): Susan talks about The Truth About Love and Lightning.


Contact Information:
Susan's Literary Agency:
The Jane Rotrosen Agency
318 East 51st Street
New York, NY 10022
(212) 593-4330
Publicists:
Women's Fiction:
Pamela Spengler-Jaffee
pamela.spengler-jaffee@harpercollins.com
Caroline Perny
caroline.perny@harpercollins.com

Debutante Dropout Series:
Danielle.Bartlett@HarperCollins.com
Young Adult Novels:
CLloyd@RandomHouse.com
To contact Susan:
SueAuthor@aol.com
Photos:
Right click and select "save as" to download high resolution photos.
Credits:
Photos 1 & 2 - Suzy Gorman
Photo 3 - Steve Truesdell / St. Louis Woman Magazine